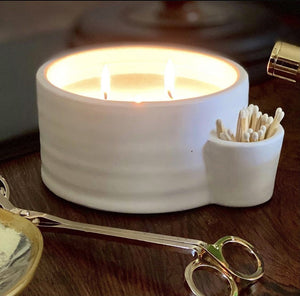 The Thomas Blonde line is a sophisticated and lush scent line that is created here in Oklahoma City, and ranges from home sprays to special hand-poured soy candles. 

The Perfect Match candle is a handmade 20 ounce ceramic matte white vessel. Featuring 3 wicks for the ultimate burn, and package includes the Blonde "perfect matches," as well! This unique vessel is definitely a conversation piece, and multi-purposeful; utilize it as a succulent planter, or re-pour a new candle. 

Available in four fragrances:

Canyon- This scent will take you on a journey winding through the deep canyon, smelling the fresh bergamot alongside the tall heirloom mahogany trees with subtle hints of soft musk that drift you into this intoxicating and layered aroma.
Blonde- Thomas's signature scent and best-selling fragrance features a tantalizing combination of cool citrus notes and musk undertones, paired with black pepper and cardamom. 
Joshua Tree- This unique scent will have you completely falling in love over and over with its captivating palette of sandalwood, cedarwood, vetiver, and amber wood.
Coachella Fields- A highly intoxicating scent that takes you back to a warm summer day, lying in a field of grass and wildflowers. With a hint of clover, cut grass and wisteria this light floral and airy mixture will captivate all your senses.

Mr. Blonde: Merging primal leather with night-blooming Jasmine and black suede. The result is a fragrance that is raw, yet refined.
Scent notes: Leather, Saffron, and Black suede
Palm Desert: Like a crisp summer breeze Palm Desert brings a perfectly balanced outdoor scent to your home. The crisp fir, cedarwood and sandalwood paired with soft musk & subtle piñon take you into a lavish bliss.
Due to item being handmade you may notice each vessel has its own uniqueness.
20 Oz. 
100% soy candles
Hand-poured
Made in Oklahoma