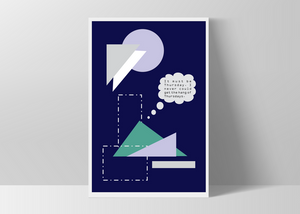 by Ann Margaret Marie
Coded just right we think, check out these bright and abstract giclee prints by local artist, Ann Margaret. Binary code is the symbolic system that our computers are built on. It is what makes our computer centric world possible. All the richness and complexity of our modern lives are built up from just two symbols, "0," and "I". These symbols are all around us, but always underneath the surface and standing in for other things. Ann has found beauty in these symbols and enjoy presenting them in different light with her art.
Dimensions:

Digitally Printed on Hahnemühle FineArt Paper using Archival Inks
Signed with label of authenticity
Made in Oklahoma
 About the artist:

Ann Margaret Mare is an earth based artist that is expressing thoughts through various levels of abstractions. You have probably figured it out (but just in case you have not) the 0's and I's in my work are simple expressions represented in binary code. Based her in Oklahoma City, Ann's work has been presented in galleries around the city. You can check out more of her work on her website, www.annmargaretmarie.com or view her Instagram, @annmargaretmarie.