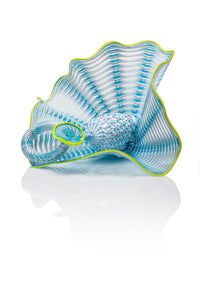 by Dale Chihuly
2023 Studio Edition

Every year, Chihuly creates four Studio Editions, representing Chihuly's most distinctive series. As every piece is handblown, your artwork may vary slightly in size, color, and shape. Small blemishes or imperfections in the glass are part of the glass blowing process and add to the individual characteristics of each piece.

Dale Chihuly discerned early in his career that to bring forth his visions in glass, he would need to rely on the properties of heat, gravity, and motion. This elemental approach to the medium results in unrestrained, tangible expressions of movement and vibrancy found not only in his Persians but in many other series that followed.
Eloquent, successive ribbons of icy blue and white spiral the panoramic waves of the 2023 Glacier Blue Persian Studio Edition, contributing a sense of vibrant and kinetic energy to the sculpture. Juxtaposed with this frosty palette, a radiant citron lip wrap crests the edges of the fan-shaped element, further emphasizing its rippling, graceful contours. The serpentine form within anchors the entire ethereal composition.
Edition of 150
Signed by the artist and etched with edition number
Approximately 

7½"H x 10"W x 9½"D

All Chihuly Studio Edition Sales are Final

© 2023 Chihuly Studio. All rights reserved.


Members receive their 10% discount on all Chihuly Studio Editions and Fine Art Prints. Complimentary FedEx Express two day shipping service to all US customers. International rates can apply and are determined at check out.

Please call the Store directly if you need any further assistance, or have questions.
(405) 278-8274