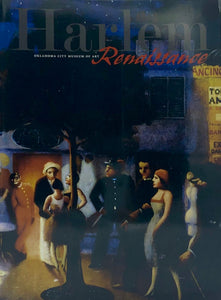 by Alison B. Amick
An accompanying catalogue to the exhibition organized by the Oklahoma City Museum of Art, Harlem Renaissance (February 5, 2009 - April 19, 2009). A much-anticipated exhibition of works associated with the dynamic social changes of post-Civil War America. The exhibition included more than 100 paintings, sculptures, and photographs by artists such as Richmond Barthé, Aaron Douglas, Palmer Hayden, William H. Johnson, Malvin Gray Johnson, Jacob Lawrence, Archibald J. Motley Jr., James VanDerZee, and others from the "vogue" of Harlem in the twenties to the Great Depression in the thirties. Artists created innovative works that expressed the uniqueness of their experiences as African American artists, while participating in larger developments in American art.
Available in paperback only.
Paperback:154 pages
Publisher: Oklahoma City Museum of Art (2008)
Language: English
ISBN:978-0-911919-10-3
Product Dimensions: 12 x 9"