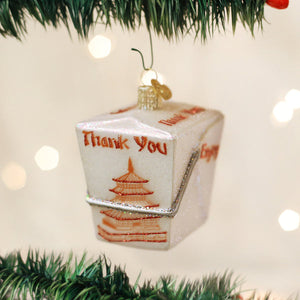 by Old World Christmas
Limited Quantity
Beautiful and sometimes cheeky, glass ornaments by the holiday brand favorite, Old World Christmas.
Delicious and slightly exotic, American Chinese cuisine is extremely popular in the United States. In fact, there are nearly three times as many Chinese restaurants in the U.S. as there are McDonalds! Instantly recognizable, uniquely shaped and printed boxes are often used for Chinese takeout.
Each figurative glass ornament produced by Old World Christmas is hand crafted in age-old tradition using the same techniques that originated in the 1800's. Molten glass is mouth-blown into finely carved molds made exclusively for Old World Christmas, before a hot solution of liquid silver is poured inside. The ornaments are then hand-painted and glittered in a series of labor-intensive steps to achieve the beautiful creations.

Dimensions: 2.75" × 2.5" × 2"
Molten glass is mouth-blown into finely carved molds
Ornaments are all hand-painted and glittered in a series of labor-intensive steps to achieve the beautiful creations.
Encased in branded gift box