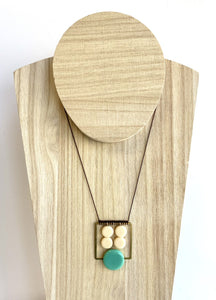 by I. Ronni Kappos

A beautiful and unique statement piece. Fun angles and bright geometrics and colors, each Kappos piece is a work of abstract art right around your neck!
Nylon cord and glass beads
Length of cord: 8"
Keep nylon cord dry and do not bunch. If cord kinks, hang upright or lay flat for awhile to straighten. Treat glass jewelry with care. 
Made by I. Ronni Kappos in California, USA.


About the Artist:
I Ronni Kappos jewelry is handmade in Los Angeles from an evolving collection of vintage German glass, Lucite, and other collectible materials. The beads were pressed during the 1920s-60s by craftsman whose meticulous techniques yielded unusual colors and shapes. Some of the rarer stock has 24k gold around the edges. Variations in the beads add character to the pieces and make them truly unique.