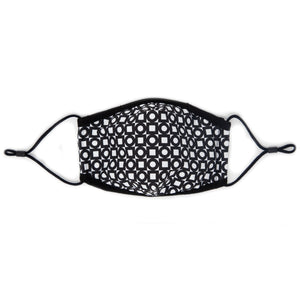 by Destination PSP
Mid-century modern, "Modernista," face masks by Palm Springs design company, Destination PSP! The super soft and comfy masks are re-usable, re-washable, made of 95% Cotton and 5% Elastane, double layered, anti-microbial, pocket for filter, adjustable ear-loops. Available in two sizes. 


Non-Medical Grade
95% cotton, 5 elastane
Soft cloth
Double ply with pocket for inserting filter (not included)
Adjust ear loops
Reusable
Machine Washable
Comes wrapped in a Destination PSP x OKCMOA soft package.

The cloth face coverings recommended are not surgical masks or N-95 respirators. Those are critical supplies that must continue to be reserved for healthcare workers and other medical first responders, as recommended by current CDC guidance.