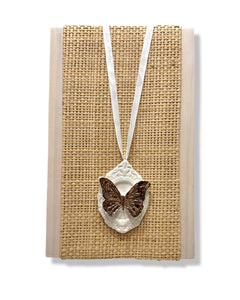 by Nicole Moan
A whimsical twist on an elegant and classic look, this specially hand created cereamic 23K gold accented necklace is utterly unique. Fashionably versatile, Nicole's jewelry can be worn in multiple ways, including around your neck in a bolo style. 
Ceramic with 23K gold accent on butterfly.
Ribbon cord, metal hook fastener in back
Approximate dimensions of medallion: 2.75" x 2"; ribbon cord length: 17"

Handmade in Oklahoma
 About the Artist:
Nicole Moan is an environmentally conscious Oklahoma artist, repurposing materials and powering her studio with solar energy. An active, exhibiting artist as well as board and committee work, as well as teaching art to inner city kids in Oklahoma City. She seeks to show the world, through art, how we are all connected and have a unique beauty.
​
Nicole has 20+ years experience creating art, including wearable ceramic corsets, 3 dimensional wall sculptures incorporating mixed media, innovative up-cycled display and applications. Specialist in wearable art in the form of ceramics and fabric. Used education in mechanics and welding to generate a unique creation process for both her art and in the mentoring of young artists and contemporaries.