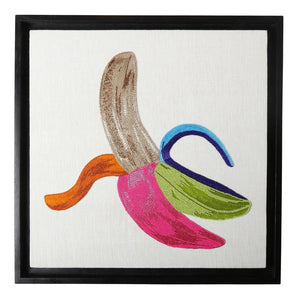 by Jonathan Adler
Hardcore Craft
Adler's slyly suggestive signature 'nana reimagined in full beaded brilliance and dazzling detail, featuring a vivid multicolor peel.
His studio collaborated with an artisanal workshop in India where a master beader imbued our clean graphic designs with craftsmanship and soul. Each artwork is hand-beaded on linen ground and takes nearly 100 hours to create. Beads of varying heights and patterns within patterns create a sense of depth and dimension. The result is part pop art, part textile triumph.
Stretched on a linen ground, which floats in a gallery-quality wire-brushed, black frame.
24" W, 2" D, 24" H
Linen ground with hand applied glass beads
Floater textured wood frame with black stain finish
Imported
Jonathan Adler Furniture and Lighting Ships Free within the US. Custom furniture will deliver to most destinations in the contiguous US within 12 weeks from receipt of order. Deliveries are made Monday thru Friday excluding holidays. 

Note: Items ordered together may not arrive together.

Any questions regarding your shipment may be e-mailed to: store@okcmoa.com