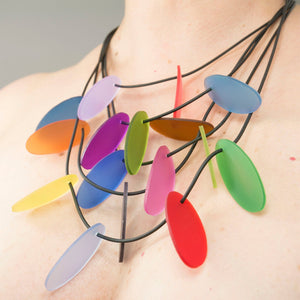 by Made by Humans
Make an artful statement with this bright and lovely piece by Dutch designer, Lydia Bremer. Made from plastic, this piece is wonderfully unconventional and lightweight for easy wear!
About the Artist:
Lydia Bremer is a well-known Dutch jewelry maker who studied art & design at the prestigious Willem de Kooning Academy in Rotterdam. During her studies Lydia developed a passion for designing and making modern jewelry, and after graduation began to create her own line.
What makes Lydia's jewelry stand out is that it is put together from simple geometrical shapes such as squares, rectangles or ovals in bright, primary colors - obvious references to Mondriaan and the Bauhaus school.

Another unique feature of Lydia's work is that she avoids the use of traditional materials such as gold, silver or gems, and instead opts for a decisively modern material, i.e., plastic.

The result is a jewelry line that is fashion-forward yet timeless, eye-catching yet sophisticated.

Designed by: Lydia Bremer
Colors: Multicolor
Made from: Plastic
Measures: 18 to 21" L