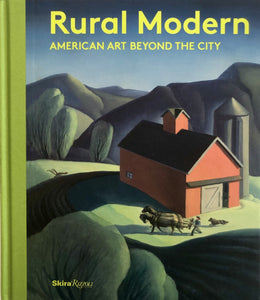 by Amanda C. Burdan, Betsy Fahlman, Christine Podmaniczky, Jonathan Walz, Catherine Whitney

An essential look at American modernism as seen through the landscape painting of Thomas Hart Benton, Charles Demuth, Georgia O'Keeffe, Grant Wood, Andrew Wyeth, and many others. Paintings of New England coastlines, small-town Pennsylvania, Southwestern canyons, Midwestern farms, and other evocative landscapes fill the pages of Rural Modern. More than sixty modernist works, created between the wars, present an important and often overlooked history: how American painters adapted avant-garde styles like Cubism and Fauvism to re-imagine familiar landscapes and develop a distinctively American modernist vernacular. Richly illustrated and with insightful essays by noted scholars, Rural Modern traces this development through a broad range of works by both lesser-known and widely celebrated artists, including Arthur Dove, Dale Nichols, Grant Wood, N. C. Wyeth, Charles Sheeler, Charles Burchfield, Marsden Hartley, and Stuart Davis. As important as the marvel of the twentieth-century city was to modernist artists such as these, many sought respite and even refuge in quieter, rural areas of the country, and soon helped to confirm modernism's enduring nature.

Publisher: Skira Rizzoli (October 18, 2016)
Hardcover: 208 pages
Language: English
ISBN-13: 978-0847849727
Dimensions: 9.8 x 1.1 x 11.3"