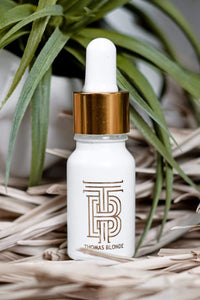 by Thomas Blonde
Introducing Thomas Blonde's latest fragrance, Mr. Blonde! It merges primal leather with night-blooming Jasmine and black suede resulting in a very sophisticated and masculine bouquet. Raw, yet refined, this is the perfect clean, complex, and deep scent you're looking for.
Want to volumize your candle scent? Just add a few drops of our pure essential oil to your burning candle to up your scent load! Available in a signature sized candle as well. 
Scent Profile: Leather, Saffron, and Black Suede. 
The Thomas Blonde line is a sophisticated and lush bespoke scent line that is created here in Oklahoma City, and ranges from home sprays to special hand-poured soy candles. 


Use with Blonde's Fresh Vent System Car Diffuser.
Use 5 to 6 drops in your home Water Diffuser.
Product Dimensions: 3.25"L x 3.625"W x 1.3125"H
Weight: .50 fl oz
Made in Oklahoma
Gift ready in signature Blonde box.