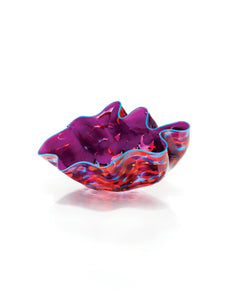 by Chihuly Workshop

2021 Studio Edition

Two defining characteristics of Dale Chihuly's Macchia series are the contrasting interior and exterior colors and the "spots" created by colored-glass frit, or "jimmies." To achieve these qualities, the interior color of the sculpture is applied to the molten clear-glass bubble. The bubble is then rolled over chunks of white glass, which keep the interior and exterior colors separate and provide a clean, white canvas on which to apply more color in the form of mineralized, organic pigments such as glass powder, dust, and frit. These colors then stretch and striate under the ministrations of breath, heat, and gravity to become vessels pulsing with energy and free-form abandon.
Chihuly's passion for color is born out of his mother Viola's extensive gardens and glorious sunsets over Puget Sound. The 2021 Viola Plum Macchia is a landscape of abundant colors with exterior spots and striations of purple, red, blue, and yellow yielding to an interior of deep plum. A low-profile form encourages views of the center, where the exterior colors converge in a kaleidoscopic manner. A steely blue lip wrap complements both the interior and exterior palettes.
Edition of 175

Signed by the artist and etched with edition number

Approximate dimensions: 6"H x 9"W x 9"D

Accompanied by a 12 x 12" acrylic vitrine with a black base for display

Includes Includes Chihuly: On Color and Form, a 120-page book with essays by Davira S. Taragin. a 120-page book with essays by Davira S. Taragin.
All Chihuly Studio Edition Sales are Final
© Chihuly Studio. All rights reserved. 
Members receive their 10% discount on all Chihuly Studio Editions and Fine Art Prints. Complimentary FedEx Express two day shipping service to all US customers. International rates can apply and are determined at check out. 

Please call the Store directly if you need any further assistance, or have questions. (405) 278-8233