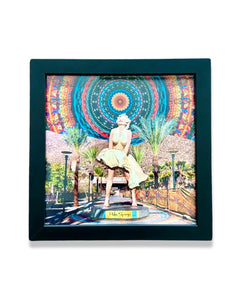 by William Struby
Available for Special Order
A limited series exclusively created by local artist, William Struby, for the Oklahoma City Museum of Art x Palm Springs pop-up located in Palm Springs, California at the Trevor Wayne Store. This stunning mixed media mandala series is based on classic views of the mid-century modern hotspots and gloriously vast expanses of Coachella Valley and The San Jacinto, The Santa Rosa and The San Bernadino mountains that surround Palm Springs.

Please allow three to six weeks for each piece to be made, or reach out to the Store at 405-278-8274 to see if any are available right away.
Dimensions: 9.5" x 9.5"
Matte black frame with attached wire in the back and hanging kit.
Multi-media
Artist signature on back of piece.
Made by William Struby in Oklahoma City


About the artist:
William Struby's work revolves around mandalas that he created digitally and then combined with collaged elements while using a technique to add relief. He used a computer to achieve the transparency, layering, and blending of photo-montage—as well as to enlarge work.
For the artist, the mandalas—age-old symbols used in a variety of spiritual belief systems—represent deeper consciousness. The iconic images of Oklahoma's architecture and characters (each chosen for dramatic appeal) interact with, or react to the mandalas, and react to consciousness.