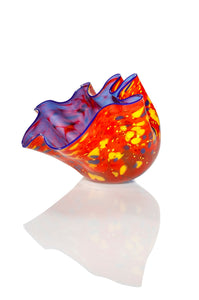 by Dale Chihuly
2022 Studio Edition

Every year, Chihuly creates four Studio Editions, representing Chihuly's most distinctive series. As every piece is handblown, your artwork may vary slightly in size, color, and shape. Small blemishes or imperfections in the glass are part of the glass blowing process and add to the individual characteristics of each piece.

Unexpected combinations of color in Dale Chihuly's Macchia achieve the artist's vision of a visceral experience in color and light. Molten glass is manipulated, as layer upon layer of colored pigments are added, to create works that are mottled yet ablaze with intensity. Chihuly's inventiveness and love of challenges are key in the development of these extraordinary and multihued sculptures.

The graceful, asymmetrical profile of the Aurora Macchia Studio Edition offers simultaneous views of its interior and exterior color palettes: a rich cerulean blue spills from within the sculpture, in contrast to its coral red exterior. As light shifts through these two palettes, the true coaxial nature of the combination is revealed, setting the interior aglow with a soft and mesmerizing luminosity. A dark lapis lip wrap defines the sculpture's extraordinary form.

Edition of 175
Signed by the artist and etched with edition number
Approximately 

7¾"H x 10"W x 9½"D

Includes Chihuly: On Color and Form, a 120-page book with essays by Davira S. Taragin.
All Chihuly Studio Edition Sales are Final

© 2022 Chihuly Studio. All rights reserved.


Members receive their 10% discount on all Chihuly Studio Editions and Fine Art Prints. Complimentary FedEx Express two day shipping service to all US customers. International rates can apply and are determined at check out.

Please call the Store directly if you need any further assistance, or have questions.
(405) 278-8233