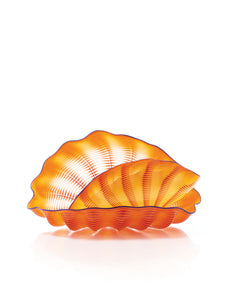 by Dale Chihuly
2020 Studio Edition
Every year, Chihuly creates four Studio Editions, representing Chihuly's most distinctive series. As every piece is handblown, your artwork may vary slightly in size, color, and shape. Small blemishes or imperfections in the glass are part of the glass blowing process and add to the individual characteristics of each piece.
As Dale Chihuly continued to explore the Basket series, he increasingly gained more control over the glass and its response to breath, heat, gravity, and gestural manipulation. Over time, he experimented with the use of an optical mold to introduce a textural ribbed effect that also strengthened the glass form. These undulating, organic forms conjured abstract sea life; thus Chihuly's Seaform series was born.
The two-piece 2020 Monarch Seaform Studio Edition illustrates the wavelike motion of the series' quixotically abstract forms. Each golden-orange element is grazed by a lapis-blue lip wrap and shows one of two variations of a sienna-colored body wrap. The larger, exterior element presents Chihuly's traditional wrap while the interior form reveals a distinctly staccato wrap. Together, the elements narrate an asymmetrical yet eloquent balance.


Edition of 200
Signed by the artist and etched with edition number
Approximately 7"H x 12"W x 6"D
Accompanied by a 12 x 12" acrylic vitrine with a black base for display
Includes Chihuly: On Color and Form, a 120-page book with essays by Davira S. Taragin.
All Chihuly Studio Edition Sales are Final

© Chihuly Studio. All rights reserved.
Members receive their 10% discount on all Chihuly Studio Editions and Fine Art Prints. Complimentary FedEx Express two day service shipping to all US customers. International rates can apply and are determined at check out. 
Please call the Store directly if you need any further assistance, or have questions .
(405) 278-8233