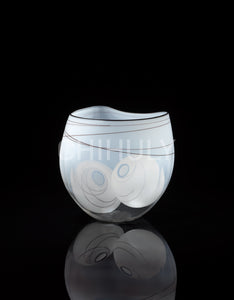 by Dale Chihuly
2018 Studio Edition

Every year, Chihuly creates four Studio Editions, representing Chihuly's most distinctive series. As every piece is handblown, your artwork may vary slightly in size, color, and shape. Small blemishes or imperfections in the glass are part of the glass blowing process and add to the individual characteristics of each piece.

Through the time-honored process of glassblowing, using few tools and relying on the forces of nature and human breath, Dale Chihuly achieved his vision to reimagine the aging and slumping Native American baskets he so admired. 
The 2018 Studio Edition Ivory Luster Basket, a strong statement in its simplicity, embodies the ephemeral, amorphous, and free-form attributes for which Chihuly's forty-year-old Basket series is known. A thin veil of glass, stretched taut around the breath that initiated it, creates a spacious interior in which rest two smaller Basket elements, each varying in degrees of translucency and opacity. An oxblood wrap, beginning at the lip of each of the three forms, continues in a graceful, arcing extension that accentuates the dimensional presence of the entire composition.
Signed by the artist and etched with edition number

Approximately 8½"H x 9½"W x 9½"D

Includes Chihuly: On Color and Form, a 120-page book with essays by Davira S. Taragin.
All Chihuly Studio Edition Sales are Final

© 2022 Chihuly Studio. All rights reserved.


Members receive their 10% discount on all Chihuly Studio Editions and Fine Art Prints. Complimentary FedEx Express two day shipping service to all US customers. International rates can apply and are determined at check out.

Please call the Store directly if you need any further assistance, or have questions.
(405) 278-8233