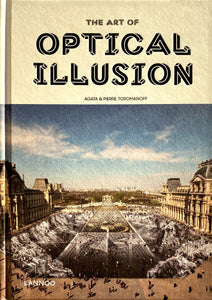 by by Agata Toromanoff and Pierre Toromanoff

A clear and accessible overview of visual illusions, spanning artwork from graphics to photography. This book presents a selection of brain-bending optical illusions featuring graphic art and photography by 60 artists, and includes an overview of the history of optical illusions in art.

Publisher : Lannoo Publishers (October 14, 2019)
Language : English
Hardcover : 192 pages
ISBN-13 : 978-9401461535
Dimensions : 6.89" x 0.87" x 9.78"