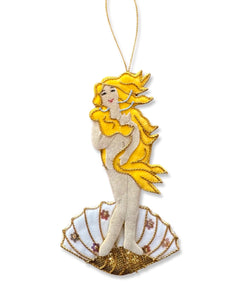 by St. Nicolas
A lovely and bright ornament of Venus from the iconic painting by early Renaissance master, Sandro Botticelli.
Decorate for the holidays or just collect with these beautiful handmade ornaments by UK company, St. Nicolas who specialize in bespoke holiday decorations. All of their decorations are handmade and for over 25 years they have worked with a small Christian charity in Thailand that helps disadvantaged rural women find work in their community.
St. Nicolas is proud to be a member of BAFTS (British Association of Fair Trade Suppliers) and supports the 10 Principles of Fair Trade, as set out by the World Fair Trade Organization.
Approximate dimensions of ornament: 5.5" L x 3.4" W (at widest point) & 8.75" with hanging cord
Some variances are possible due to the handmade nature.
Golden roped hoop for hanging.
Sustainably and ethically handmade.