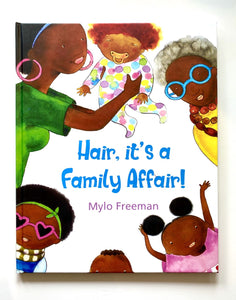 by Mylo Freeman

A celebration of black hair, through the vibrant and varied hairstyles found in a single family. With Mylo Freeman's trademark colourful illustrations, this entertaining book will show young black children the joys that can be found through their hair, and remind other children of the many different types of hair that can be found in the world around them.


Age Range: 3 - 6 years
Hardcover: 28 pages
Publisher: Cassava Republic Press; Illustrated edition (April 17, 2019)
Language: English
ISBN-13: 978-1911115687
Dimensions: 8.4" x 0.4" x 10.4"