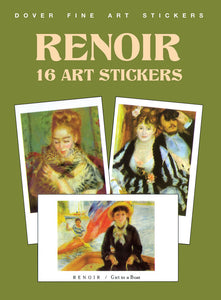 by Dover
Among the greatest of the Impressionists, Renoir is loved for his light-filled scenes and portraits of beautiful women, children, and people enjoying themselves. He is also among the most highly regarded of 19th-century painters for his masterly brushwork, sensuous appreciation of color and light, his gusto for life, and the charm and poetry of his works.

This splendid collection of miniatures presents 16 of Renoir's most famous paintings in pressure-sensitive sticker format. Included are Woman with a Fan, La Loge, After the Bath, Self-Portrait, Girl in a Boat, Dance in the City, and ten more.
Use these delightful stickers to decorate gifts, packages, letters, notebooks, and scores of other flat surfaces.
16 Sticker Set

Book dimensions: 4 1/16 x 5 3/4



ISBN-10 0486406059
ISBN-3 9780486406053

Original Dover (2000) publication.