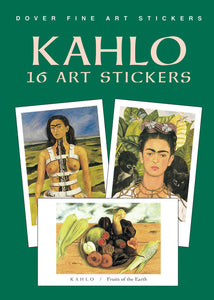 by Dover
Full of anguish and passion, Frida Kahlo's arresting self-images fairly smolder on the canvas. Now, after having long been eclipsed by Diego Rivera, her more famous partner, Kahlo's work is achieving widespread recognition.

In addition to portraits of herself and Rivera, these excellent sticker reproductions of Kahlo's compelling works include The Broken Column, The Little Hart, The Dead Dimas Rosas at the Age of Three, Self-Portrait with Monkey, and twelve others. Outstanding additions to a personal collection, these stickers will also add instant interest to letters, notecards, and other flat surfaces.

16 Sticker Set

Book dimensions: 4 1/16 x 5 3/4




ISBN-10 0486413500

ISBN-13 9780486413501

Original Dover (2000) publication.