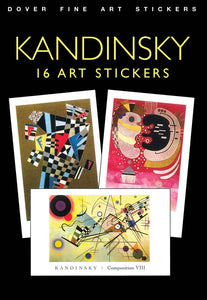 by Dover
After his formative experimentation with Art Nouveau and Fauvism, Wassily Kandinsky (1866–1944) developed a highly original style of his own. His widely exhibited works exercised a profound influence on other artists of the early 20th century, expanding the Russian-born painter's renown as a pioneer of abstract art.

This colorful collection of sticker art reproduces 16 of Kandinsky's most striking images, among them Horizontals, Between the Two of Us, Bright Lucidity, Multicolored Circle, Red Oval, Subdued Glow, Checkered, and Painting within a Painting. An eye-catching way to enhance stationery and other flat surfaces, these impressive reproductions will delight admirers of Kandinsky and lovers of modern art.
16 Sticker Set

ISBN-0 0486415678

ISBN-3 9780486415673

Book dimensions: 4 1/16 x 5 3/4



Original Dover (2000) publication.