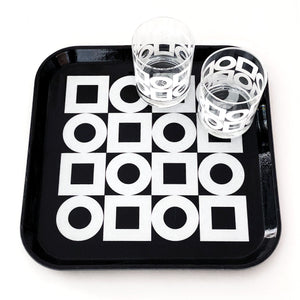 by Destination PSP

The durable, all-purpose Camtray is the worldwide industry standard – offering long lasting service, lightweight construction. Engineered with high-impact fiberglass with reinforced edges that ensure this tray is chip and crack resistant .

When William and Argyle Campbell first opened the doors at Cambro Manufacturing in 1951 their goal was to make a hospital meal tray of the highest quality possible. Named the Camtray®, it demonstrated that they were as committed to excellence in the food service industry as they were to the quality of their own products. Leading the industry for almost 70 years. 

Modernista is influenced by the design currents seen at Modernism Week 2020, including Margeurita Mergentime (1920s-30s), Alexander Girard (1950s-60s), Pierre Cardin (1960s-70s) and Jim Isermann (current).

Hand wash only.
Made in the USA
Dimensions of tray: 13"