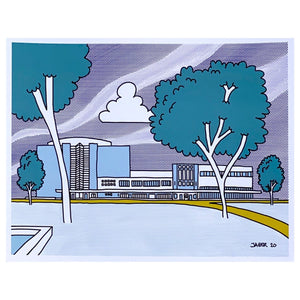 The latest work made by artist Arjan Jager and created exclusively for our current exhibiton, POP Power from Warhol to Koons: Masterworks from the Collection of Jordan D. Schnitzer and His Family Foundation utilizing the Ben-Day dots made famous by artist Roy Lichtenstein. The Oklahoma City Museum of Art design draws influence in style from the Pop genre and style while showcasing the Museum itself.  Commemorate both Oklahoma City and Pop Art with this beautiful and fun print. Available in postcard and note card format as well. 


Jager creates ink to paper illustrations that are minimal, playful, and that skillfully depict scenes involving the landscape of Oklahoma City.
Dimensions: 8" x 10"/ 20.3 cm x 25.4 cm
350g/m2 uncoated paper
Matted cardboard backing.
Artist card included with purchase


Artist Bio:

Arjan Jager is an artist and Urban Designer from the Netherlands was based in Oklahoma City, but recently relocated to Chicago. His illustrations appeared both on the cover and inside the Curbside Chronicle, a magazine that employs and empowers men and women transitioning out of homelessness in Oklahoma City. 

Arjan has done commissioned work for individuals and companies. His most recent commissions were for the Oklahoma City National Memorial, the OKC Memorial Marathon, Holiday Pop-Up Shops and Downtown OKC Partnership.

He teamed up with Clarity Coffee, and developed and designed an illustration for their new to-go cups. His design represented Oklahoma in a list of "the coolest-looking coffee cups from all 50 states" in Food Network Magazine.