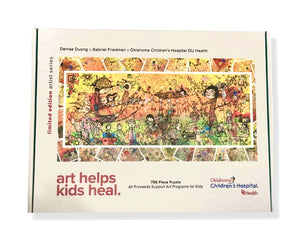 by Denise Duong, Gabriel Friedman, and Oklahoma Children's Hospital
Oklahoma Children's Hospital collaborated with local, professional artists Denise Duong and Gabriel Friedman to bring meaningful, create experiences and self-expression to kids at the hospital through this unique artists-in-residence project.
Supported by art therapists, Brittany Dray, kids reflected on their personal stories while designing each piece of a massive, wall size mural, exhibit puzzle built by Friedman. Atop the Children's designs, Duong brings to life the connectivity of their stories. This final show piece-the largest professional-kid-collaboration puzzle in Oklahoma, we think-is now a permanent part of the hospital, inspiring and connecting kids for years to come!
These tabletop sized puzzles were gifted to children who participated. All proceeds support future art programs at Oklahoma Children's Hospital and long-time partner, Art with a Heart, which provides art experiences to our kids in cancer treatment (partner organization selected by Duong & Friedman).
756 Piece Puzzle
Includes artist and program information and activity book
All Proceeds Support Art Programs for Kids