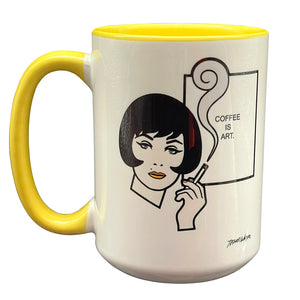 by Trevor Wayne
Well said! This mug makes a hilarious and great gift-or an even better treat for oneself. Based on original art by Palm Springs artist, Trevor Wayne.
15 oz. mug
Microwave and dishwasher safe
Image on both sides and colorful interior.
Imported
Artist Bio:
Trevor Wayne was born in Chicago and raised on a blueberry farm in Michigan. Trevor's desire to become an artist developed not from an encounter with paintings in a museum, but from his childhood love of Saturday morning cartoons. The influence of cartoons and comics remains palpable in his work, with its hard-edged clarity and stylized economy of visual means. Like the Pop Art figures that preceded him, Trevor mines familiar references for his paintings, drawing on totems of consumerism and mainstream entertainment that are well-known to American audiences including horror movies, Barbie dolls, reality television, and classic Hollywood cinema. Trevor attended the American Academy of Art in Chicago, and now resides in Palm Springs, CA.