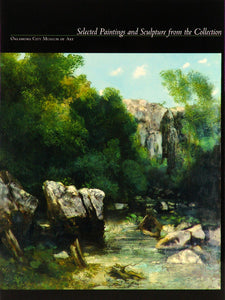 by Hardy S. George, Carolyn Hill, and Alison Amick
The Oklahoma City Museum of Art's first collection catalogue to document it's permanent collection. Dating from the seventeenth century through the twentieth century it focuses primarily on European and American art. From Frank Stella's Spirit Spout to Giuseppe Maria Crespi's Portrait of a Woman Holding a Mask, the catalog highlights the range and excellence of the Museum's paintings and sculptures in over one-hundred color plates.
Among the major artist's represented are: Thomas Hart Benton, Sam Francis, Grace Hartigan, Ellsworth Kelly, Thomas Moran, Georgia O'Keeffe, Charles Wilson Peale, Andre Derain, Pierre-Auguste Renoir, and Gustave Courbet.
Available in hardcover and paperback.
Hardcover 241 pages
Publisher: Oklahoma City Museum of Art (2007)
Language: English
ISBN: 0-911919-04-X
Product Dimensions: 12 x 9 ½ x 1 inches