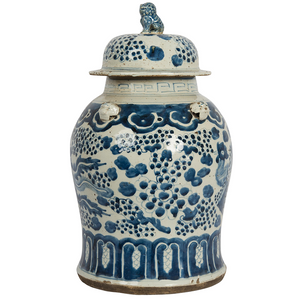 by Enchanted Home
This classic ginger jar features a  phoenix scene and  is topped with a charming foo dog lid- paying homage to the timeless aesthetics of Ming dynasty work. This piece has been subtly antiqued for a aged and historic appearance. Absolutely stunning alone, and doubly so as a pair!
Dimensions: 17" x 11"

Handmade and hand-painted in China.

Water tight cannister

Not food safe.