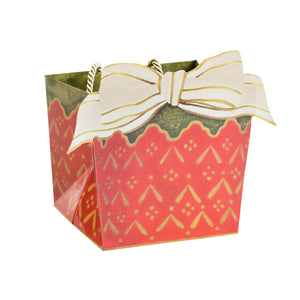 by Caspari
Make it Gorgeously Gift Ready this Season!
A wide bottom beautiful gift bag created by beloved brand, Caspari, these bags will elevate any small arrangement, such as poinsettia's or succulents!
Adorned with cheerful colors, eye-catching prints and patterns, and art from artist and museums around the world, Caspari gift bags elevate your present presentation through exceptional design and quality. Each is printed on durable, heavy-duty paper and features strong handles for carrying.
The details of their bags, however, are what truly make them special. Printed with high-quality inks, stamped in gold foil, adorned with die-cut ornament tags and applique elements, tied with a bow, finished in a high gloss, or given a matte finish, each bag is designed to be extraordinary and unique. 
Please note: The small-sized cachepot is designed to hold a potted plant or arrangement with a diameter up to 5.5" and a total height below 5". 
This uniquely shaped bag is designed to hold a potted plant.
High-quality printed on durable paper with a unique die-cut design.
Single Bag
6" x 5" x 4.75"
In this Design: A red and gold plant pot topped with moss is decorated with a beautiful bow.