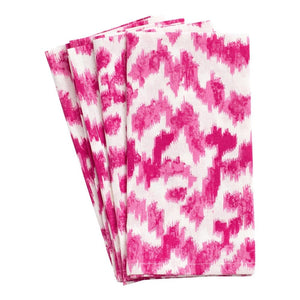 by Caspari
Inspired by the handcrafted beauty and rich colors of traditional Indian textiles, Caspari created these cotton napkins to bring both that unique character and design to your table. they've chosen some of their favorite patterns and printed them in a large scale for an eye-catching and contemporary look. Each unique set of 4 fabric napkins is handcrafted in India.

Designed to match our reversible cotton tablecovers, each set of 4 hand printed cotton napkins brings color and style to the table. Machine wash cold. Tumble dry low.
Handmade in India
100% Cotton
4 Napkins Include Per Set
Each napkin is 19.5" X 19.5" when unfolded
In this Design: A contemporary take on wavy patterns typically seen in moiré silk fabrics.