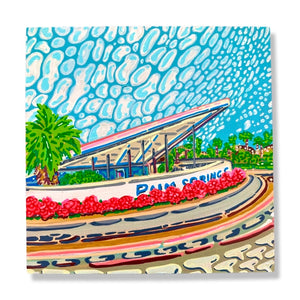 by Clint Stone
Available for Special Order
 A limited series created by local artist, Clint Stone, for the Oklahoma City Museum of Art x Palm Springs pop-up located in Palm Springs, California at the Trevor Wayne Store. This vibrant series is based on classic views of the mid-century modern hotspots and gloriously vast expanses of Coachella Valley and The San Jacinto, The Santa Rosa and The San Bernadino mountains that surround Palm Springs. Each painting is acrylic on 12" x 12" pine or other reclaimed wood board.  Please allow three to six weeks for each piece to be made, or reach out to the Store at 405-278-8274 to see if any are available right away.
12" x 12" original painting on wood
Acrylic
Hanging wire on backside
Signed
Made by Clint Stone in Oklahoma City
About the Artist:
Clint Stone is a visual artist who has been active in Oklahoma for twenty years. His original inspiration was colorful candy and sci-fi toy packaging. Though he's probably matured over the years, he's still happy to take in all the hues of a donut shop or a flashy cartoon. In addition to his life as an artist and curator, he currently serves as the Vice President of Programs at Science Museum Oklahoma.