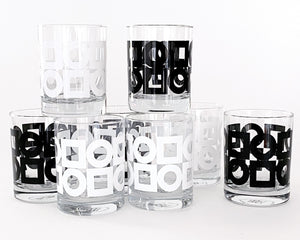 by Destination PSP
 A gorgeous and sophisticated design that features a  minimalist/futurist pattern of circles and squares that is reminiscent of late 1960s designs.  In classic black or white and sold in a set of four glasses.

"Modernista," is influenced by the design currents seen at Palm Springs Modernism Week 2020, including Margeurita Mergentime (1920s-30s), Alexander Girard (1950s-60s), Pierre Cardin (1960s-70s) and Jim Isermann (current).
Set of 4 glasses
Hand wash recommended.
Dimensions of glasses measure 4 1/2 inches high by 3 3/8 inches in diameter and holds 14 oz.
Made in USA. Decorated in USA.