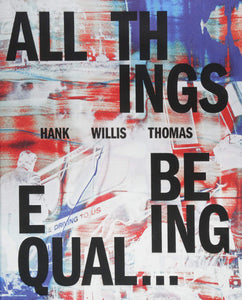 by Kellie Jones, Hank Willis Thomas, Julia Dolan, Sara Krajewski, Sarah Elizabeth Lewis, and Bobby Martin
Hank Willis Thomas: All Things Being Equal presents a survey of the artist's prolific and extraordinary interdisciplinary career, incorporating all aspects of his art, with a particular focus on the work's relationship to the photographic image and to issues of representation and perception. At the core of his practice, is his ability to parse and critically dissect the flow of images that comprises American culture, and to do so with particular attention to race, gender, and cultural identity. Other powerful themes include the commodification of identity through popular media, sports, and advertising. In the ten years since his first publication, Pitch Blackness, Thomas has established himself as a significant voice in contemporary art, equally at home with collaborative, trans-media projects such as Question Bridge, Philly Block, and For Freedoms as he is with high-profile, international solo exhibitions. This extensive presentation of his work contextualizes the material with incisive essays from Portland Art Museum curators Julia Dolan and Sara Krajewski and art historian Sarah Elizabeth Lewis, and an in-depth interview between Dr. Kellie Jones and the artist that elaborates on Thomas's influences and inspirations.
Publisher : Aperture (November 15, 2018)

Language : English

Hardcover : 256 pages

ISBN-10 : 1597114480

Dimensions : 9.49" x 1" x 11.5"