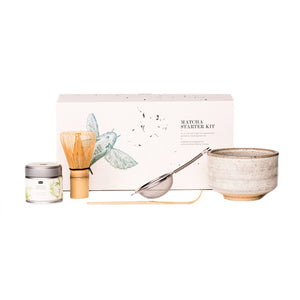 by P & T
 This set is the perfect starting point for anyone eager to reap the plentiful benefits of matcha while taking part in the most time-honored of Japanese traditions.

All-in-one set to get you started with authentic matcha green tea. Included in this set are a traditional matcha bowl, a matcha spoon, a matcha strainer, a matcha whisk and of course the invigorating Shinto Matcha tea.
Authentic matcha is still hand-milled by artisans much as it was hundreds of years ago in Uji, the cradle of Japanese tea culture. Originally a ceremonial drink of Zen monks, matcha is one of the healthiest drinks on earth, yielding a rich source of anti-oxidants, vitamins and minerals.
See the video below created and provided by P & T that shows how best to prepare matcha!
P & T was founded in 2011 as a supplier of fine and rare teas and pioneer of a sophisticated, modern tea culture in Berlin.
Drawing on the traditions and knowledge of the tea's countries of origin, it is their passion to promote appreciation for the beauty, enjoyment and multiple uses of tea.