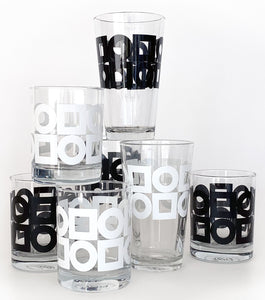 by Destination PSP
 A gorgeous and sophisticated design that features a  minimalist/futurist pattern of circles and squares that is reminiscent of late 1960s designs.  In classic black or white and sold in a set of four glasses. These glasses are great for beer, iced tea, or mixed drinks!

"Modernista," is influenced by the design currents seen at Palm Springs Modernism Week 2020, including Margeurita Mergentime (1920s-30s), Alexander Girard (1950s-60s), Pierre Cardin (1960s-70s) and Jim Isermann (current).
Set of 4 glasses
Hand wash recommended.
16 ounce beer glass
Made in USA. Decorated in USA.