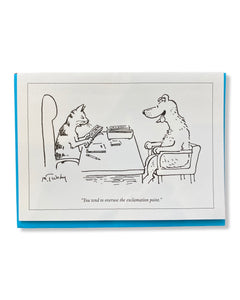 by The New Yorker & Nelson Line

The cartoons of The New Yorker have entertained the magazine's  readers for nearly a century. With unmatched visual sophistication and wit, they let no subject escape their scrutiny. A roster of extraordinary artists continue to create indelible images that are infinitely varied in style and tone, whether whimsical, provocative, serene, or laugh out loud funny. The New Yorker cartoons are always the talk of the town.

Greeting in card is blank. Comes with accompanying signature blue envelope envelope. 

Card dimensions: 7" x 5" 
Printed with soy ink.
Made by the Nelson Line
Condé Nast 

© 

Tom Cheyney. All Rights reserved.
Published by Nelson Line
Made in the USA