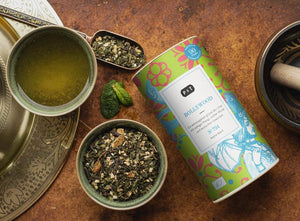 by P & T
A fanciful blend of organic green tea enriched with tropical mango, cool spearmint, warm ginger and Indian spices, this is our loving ode to the extravagant sets of Bollywood. A wonderful bouquet of flavors, this refreshing chai is a delight to be enjoyed hot or cold.
ABOUT P & T MASTER BLENDS: In developing the Master Blends line, we set out to bring back the original magic of the tea blending tradition while adding our own contemporary aromatic twists. With a nose for inspiring flavors, our collection of organic Master Blends elevates tea to new and exciting heights. Each original recipe weaves together a masterful palette of all-natural ingredients to highlight and celebrate the essence of tea. The P & T Master Blends line features organic tea and herbal blends which were created using fine teas pairing them with pure aromatic ingredients such as flowers, herbs & spices, dried vegetables, and seeds.
Notes: Mango, spices, and mint.
Loose leaf tea. 100 grams.

Each serving is good for two infusions
Instructions on infusion provided.
Made in Germany